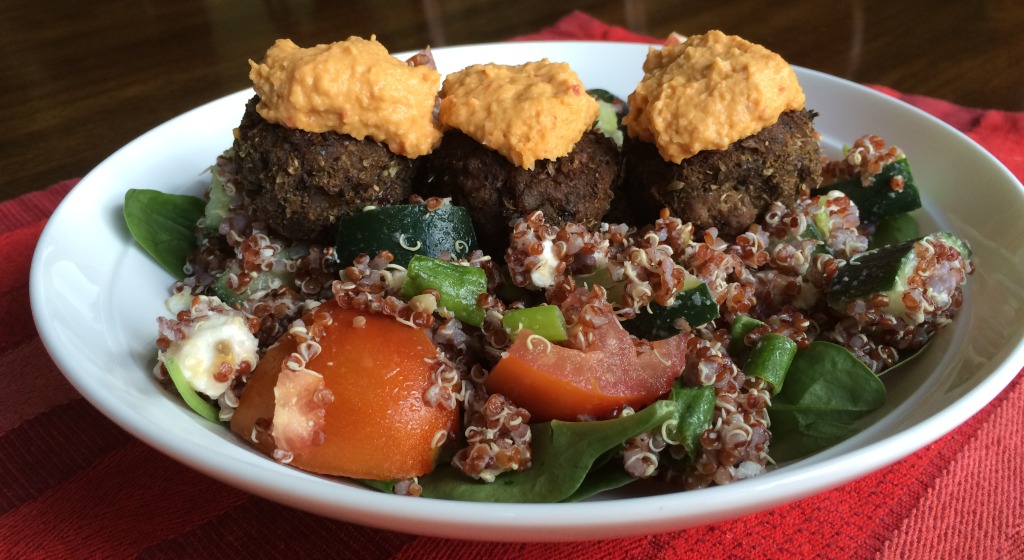 While I'm not a gourmet cook by any stretch of the imagination, I'm enjoying planning and preparing family dinners much more now that I have time to cook. I thought about sharing links to several of our favorite family meals, when I realized that we've made adaptations to many of them. Periodically, I plan to share with you how we've enhanced recipes to fit our family's dietary needs (my husband has a gluten intolerance) and preferences.
This tasty, healthy Mediterranean-style dish, adapted from a Real Simple recipe I found in 2008, is one of our family favorites. Enjoy!
Ingredients
1.5 cups red or white quinoa
3 cups of water
1 small bundle of scallions/green onions
6 Roma tomatoes
1 cucumber
3 tablespoons lemon juice
1 package feta cheese
Fresh spinach
1 pound of 90/10 ground beef (leaner cuts won't form mini burgers well, we've tried)
3 teaspoons ground cumin
3 tablespoons dried oregano
Salt
Pepper
Olive oil
Hummus
Quinoa Salad
Prepare quinoa according to package directions, typically it's combining 1.5 cups of quinoa with 3 cups of water and brining to a boil. Then turn down heat to low to simmer for 15 minutes.
Meanwhile, cut the tomatoes and cucumber into generous bite-sized pieces and chop the green onion. In a large bowl, combine the vegetables with 3 tablespoons of lemon juice, 3 tablespoons of olive oil, 1 teaspoon salt, 1/4 teaspoon pepper and feta cheese.
Add the quinoa to the vegetable mixture and toss the salad.
If you plan to eat the entire portion that evening, mix the fresh spinach into the salad. Since we typically have leftovers, the spinach holds up better if you plate the quinoa salad on a bed of fresh spinach.
Spiced Mini Burgers
In a low bowl, combine cumin, oregano, 1 teaspoon salt and 1/4 teaspoon pepper.
Form beef into mini burgers and coat in spice mixture on both sides.
Heat a dash of olive oil in a large skillet over medium heat. Add the spiced mini burgers and cook approximately 5 minutes per side, depending on the thickness of the burgers.
Serve spiced mini burgers over the quinoa salad with spinach. Top mini burgers with a dollop of hummus.