Follow my blog with Bloglovin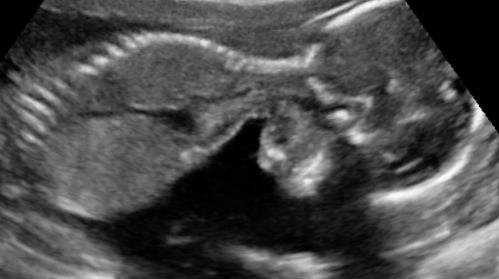 "I knew you before I formed you in your mother's womb. Before you were born I set you apart and appointed you as my prophet to the nations." – Jeremiah 1:5
On Monday afternoon, we found out that our second little bundle of joy is a girl! With a son at home, we are thrilled that God chose to bless us with one of each. Our little blessing, Alexia "Lexi" Grace, has already taught me a few lessons that I'd like to share with you:
I'm not in control, God is. Read my post about this here.
His plan is perfect. I'm continuously amazed at how perfect God's plan is for our family. While we were planning on having a second child, we weren't planning on having a second quite so soon after the first. (Levi and Lexi will be 20 months apart.) Funny thing, several friends of ours are in the exact same position, and one other couple has a surprise son who will be just 14 months younger than their daughter. However, God has used this circumstance to show his provision for both our families, as we will be exchanging baby clothes. Plus, completely unexpectedly, my cousin in California also offered to send me her little girls' clothes as her younger daughter grows out of them. God is good!
God's telling me, "I've got this. Trust me." My husband keenly pointed out this lesson as we were leaving Lexi's 19-week ultrasound appointment. After finding out that she is a girl, I was grinning from ear to ear and couldn't wipe the smile off my face the rest of the day. While I tried to prepare myself for potentially being an all boy mom, I deeply desired to have a little girl. I had envisioned what her room would look like and even picked out the name Lexi when I was a mere 16 years old. (I was dating my husband back then, interestingly enough.) When we found out Levi is a boy at his 21-week ultrasound, I was in shock and didn't say a word as I processed the news. I had it in my head that little boys love their fathers and could care less about their moms. I was worried that he wouldn't love me. Crazy, I know. Now, I couldn't imagine my life without Levi. I love him so much, and he does love me back. He loves cuddling with me best and seems to only give me kisses and while doling out hugs to everyone else. While I may be a little jealous that he's currently enamored with his father—constantly beckoning him with "Da-dee" whenever he goes out of his sight—his being buddies with dad will help me out a ton when Lexi arrives. I'm thrilled that we're going to complete our family with little Lexi. And if I'm really honest with myself, she's an answered prayer.
We have to first be vulnerable for God to build us back up. For instance, my husband had to lose his job to hear God's calling for his life. Read about that in his five-part blog series, My Big, Fat Kairos Moment—part 1, part 2, part 3, part 4, part 5. While my breakdown isn't as dramatic, I did recently quit my job to be a stay-at-home mom. (Read about that decision here.) This past week Levi came down with a nasty virus, Hand, Foot and Mouth Disease. While it's not as bad as it sounds, our usually sweet little boy had multi-hour long crying fits as a result and would cry in his sleep (so sad!). On Sunday afternoon, I met my breaking point in being patient with the constant crying, which he reserved for home thankfully. I had called my mom to see if she had any advice on how to fix him. Not being able to cure his pain, hurt me. I began to worry, if I can't soothe him, how am I going to handle two little ones? It ended up with my walking away from the situation and taking a little time for myself. Levi, of course, followed me up the stairs and wanted to hug on me, which was absolutely adorable. For some reason, he knew. So before this becomes a novel, my point is that I was worried about having the capacity for two children not just this past week but several times since finding out I was pregnant this time around. I needed this one to be a girl to know that everything would be alright and that God had a plan for our family that was perfect. Heck, we'll now have the cliché perfect family with 2.5 kids, assuming our dog, Percy, is the half kid.
"'For I know the plans I have for you,' says the Lord. 'They are plans for good and not for disaster, to give you a future and a hope.'" – Jeremiah 29:11
I'm sure there will be many more lessons to come, but I was pleasantly surprised to find there are so many lessons in the blessings God gives us. In fact, I'm learning a lot about life lessons and trusting God through the life of the single mom we're working with through RighTrak as well as through the origins of the church plant in which we're involved. This month Oikos Church is celebrating its first anniversary! More on both of those another time.
May God bless each of you as richly as he's blessed our family!